---
"Greg is a fantastic instructor that provides excitement and energy to an otherwise mundane and boring program." - Jonathan Malone
---
Upgrade your skills, increase your knowledge, and enhance your marketability.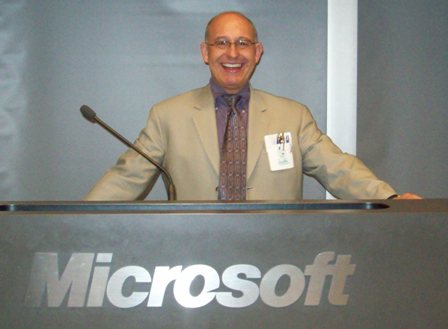 Need a refresher course in Microsoft's Office? You can achieve all of this and much more at my Microsoft Office Community and Business Management Workshops. I have designed these reasonably priced and convenient classes for current Office 2003/2007 PC users. Details about the courses, location, cancellation policy, payment, and other information follows.
Click here for a PDF flyer with class details.
Order and Purchase your classes - Click here.
The Courses and Dates
All classes held 8:00 - 4:00 at First MCC (N. Druid Hills and I-85 - Click For Map). Please bring your laptop for hands-on exercises and customization. These are BYOC - Bring Your Own Computer - workshops.
Power Presentations with PowerPoint September 23,
NEW! Windows 7 and Office 2007/2010 - Two classes in One day! September 30
Exelling @ Excel - Three day series October/November (Dates To Be Determined

Day 1 - October - The 5Fs of Excel: Formatting, Fill, Formulas, Functions, and Filter/Sort
Day 2 - October - Data Analysis and Databases
Day 3 - November- Macros, Math, and Magic
The Agenda
8:00-8:30 - Set-up Laptop, Meet N Greet, and Bagel/Fruit Breakfast.
8:30-9:00- Introductions, Expectations, Complete Set-up, and Load Files.
9:00-12:00- Course content and health/snack break.
12:00- 12:30 - Lunch provided.
12:30 - 3:45 - Course content and health/snack break. Graduation Celebration!
The Cost and Materials
$135 per person. (Receive a $55 refund for taking all three Excel Classes.)
100+ page reference manual for each class.
Sample and practice files.
Order and Purchase your classes - Click here.
Classes held at First Metropolitan Community Church (FMCC) located at I-85 and North Druid Hills from 8:30 - 3:45. Cost is $135 per class and you will receive a 100+ page handout as a reference manual with practice file included in fee. Please bring your own laptop and set-up by 8:30.
What are Community Office Workshops? - Greg Creech presents the Community Office Workshop which are practical, productive, and profitable education events designed for all professions and most people and ages. The Community Office Workshops (COWs are coming home!) brings popular workplace training to your neighborhood, church (Holy COW!), organization, or association at reasonable rates. Since this is a community endeavor, we will share our knowledge, our skills, and our money. These programs include soft skills, technical skills, and unique combination of both, such as being a better presenter using PowerPoint and time management concepts using Outlook. There are breakfast, lunch, and dinner options for us to network, plan our time, reinforce our learning, and enjoy each other. In order to maximize learning and your investment, workshops are limited to 15 people. Greg has about 25 presentations from which to choose (A herd of COWs for you!).
Now, here's the Beef and some of the other Community Office Workshops that I offer:
Power Presentations - A presentation class for trainers, sales personnel, presenters, educators, and anyone wanting to improve their presentation and speaking skills.
Book Reports the Rock! – A PowerPoint and Presentation workshop for teenagers.
SMILE all the way the bottom line – Humor and tools for stress management
Profits in Economic Uncertainty Disaster – How to plan, plot, prepare, and profit in this downturn or disastrous economy.
---